All about Paul Clarke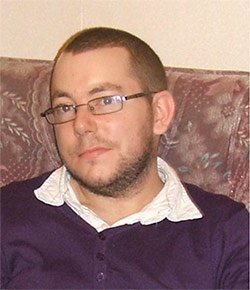 Paul was born in 1977 on the Wirral. He later moved to Altrincham and studied Art and Design at South Trafford College.
Paul's paintings are of seemingly familiar places. Landscapes that evoke memories through their simplicity and use of colour, set at the most important and fascinating times of the day: dawn and dusk.
His careful observations of light begin whilst sketching and painting outdoors, often around the Pennines. Back at the studio, his techniques of over-saturated paper and minimal brush strokes combine with a mastery of colour harmony to recall the atmosphere and potential of a misty sunrise or the dramatic intensity of the calm after a storm.
Paul greatly admires the work of Alwyn & June Crawshaw and has received great inspiration and encouragement from them on a personal level. More recently John McCombs, the Saddleworth artist, has become a good friend and mentor.
Paul has exhibited in the South Manchester area and in London and has had 2 solo exhibitions in the Millgate Arts Centre in Delph. This will be the second time he has been asked to exhibit at the Altrincham College of Art.
His work has been collected by a wide variety of people. Paul has been doing innovative and invigorating painting demonstrations for the residents of the care home, where he is employed part-time. He lives and works in Altrincham but can often be seen sketching around the Delph area on Sundays.